Keywords:HKS0403A1U(hks0403)/ 4 in 3 out/4 Port Triple Monitor KVM Switch
1. Is this the right KVM for 4 laptops and 3 monitors?
This Triple Monitor switch can achieve the following:
Display Mode 1:Triple monitors can be used to duplicate the display of a computer simultaneously;
Display Mode 1:Each monitor can display information from a different computer in extended mode;

Display Mode 2:Display various PCs on 3 monitors.
2. Why does the video cable need to be connected to 3 instead of 1?
From a signal transmission perspective, connecting 3 video cables to the KVM is necessary. Additionally, the three output ports of the KVM need to be connected to the monitors. This setup allows for screen expansion. If only 2 cables are connected, only 2 monitors will display content. Similarly, if only 1 cable is connected, only 1 monitor will display content.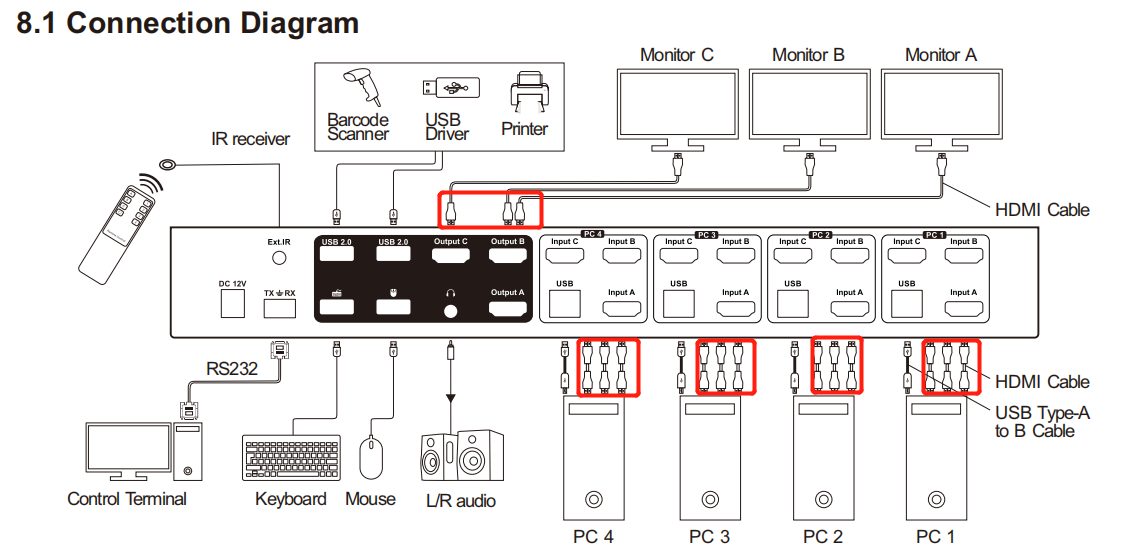 3.
Can the KVM support

5120x1440?

❌(5120x1440),

✅(3840x2160)@60hz,(3840x1080)@120hz, (3440x1440)@100hz, (2560x1440)@144hz, (2560x1080)@165hz, (1920x1080)@240hz.
4. Compared with Dual Monitor KVM Switch, what kind of upgrades have been made to the latest Triple Monitor KVM Switch product?
Support 3 USB 3.0 (including 1 USB C), 2 of which are able to charge. USB 3.0 sharing for printers, jump drives, USB headsets, and webcams for teleconferencing.

Newly added an integrated microphone and L/R audio output.

Support locking L/R audio and USB 3.0 devices to a fixed PC.

Newly added a LAN port to ensure that all 4 computers are connected to the network through RJ45.

One-touch locking KVM to protect private information, with audio output pause and LCD screen brightness reduction.
5. What should I do if my input source does not have so many HDMI ports?
If you don't have enough HDMI ports, it is recommended that you use a converter. Please check if there are other video ports on your input device, such as USB-C, DisplayPort, VGA, or DVI ports.

Avoid daisy-chaining multiple adapters as this may cause signal attenuation and degrade performance.

It's important to note that the quality of the video signal may be impacted by the adapter's performance.
6. What advantages of USB3.0 over USB2.0?
Compared to USB2.0, USB3.0 has several advantages: it can achieve up to 10 times faster transfer speeds, with a maximum speed of 5Gbps; it supports simultaneous data and power transmission, allowing for charging and data transfer at the same time; and it allows for connecting multiple devices simultaneously without worrying about bandwidth limitations.
7. When connected to a triple monitor KVM, why is there noise, and what can be done to resolve it?
The noise may be caused by electromagnetic interference. Since the audio signal of this product is transmitted through the HDMI cable, adding another connected device will increase interference, as the HDMI link provides some power. Typically, HDMI power is small and we did not encounter this issue during testing. It may be related to the product's power chip or your usage environment. It is recommended to use external speakers connected to the USB interface. If you can not solve the problem, you can contact us through the chat window at the lower right or by submitting feedback. Our dedicated team of professionals is ready to help and provide after-sales support.
8. Product Settings Reminder
To fully utilize the features of this KVM, each PC requires 1 USB-A port and 3 HDMI ports. If your device does not have sufficient ports, additional adapter cables and docking stations may be needed.

This KVM supports the connection of up to 4 computers. Each computer has three input ports (InputA, InputB, InputC). You can connect each computer to the corresponding monitor as per your requirements (e.g. for PC2 to output on Output1 and Output2, connect PC2's inputs to InputA and InputB respectively).

The correspondence between the ports is as follows: InputA - OutputA, InputB - OutputB, InputC - OutputC.
9. If you have correctly connected all the cables but still encounter issues with your setup, you can follow these troubleshooting steps:
Check for a bad cable: Swap the problematic cable with another available cable to see if the issue persists.

Non-standard resolution: Ensure that the resolution settings for the problematic monitor match those of the working monitor. Adjust the resolution if necessary.

Verify bad ports: Test the ports on both the KVM and computer sides. If possible, try connecting the computer to another machine or plug it into a different open slot on the KVM to determine if the port is causing the problem.

Docking station issues: This is a difficult problem to troubleshoot since most people have only one docking station available. However, if you suspect the docking station is causing the issue, try connecting the computer directly to the KVM without the docking station.

Power cycle the KVM: Turn off the KVM and unplug its power source. Wait for a few seconds, then plug it back in and power it on. This can help reset communication and resolve any signal or communication problems.

DOA (Dead on Arrival): It is possible that there is a faulty power adapter or a faulty KVM board. If you suspect this to be the case, consider contacting the manufacturer or supplier for further assistance or to request a replacement.
🎯Your feedback matters! If you find our help center helpful, please let us know by leaving a message or voting on the articles. We value your input and are committed to providing the best customer experience possible.