How do I connect this? | how to nstall? | What else will I need? | Missing Connections
Connection Diagram
1x2 HDMI splitter: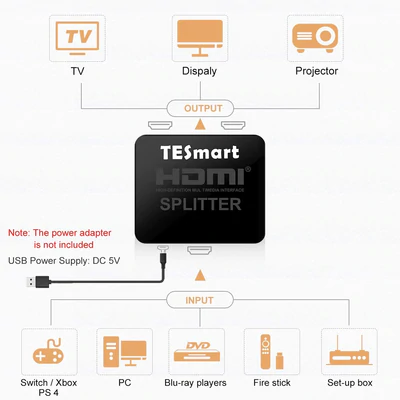 1x8 HDMI splitter: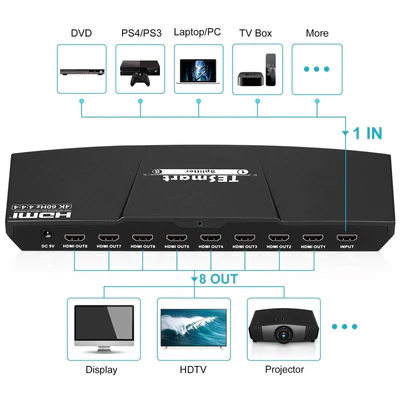 2x8 HDMI splitter: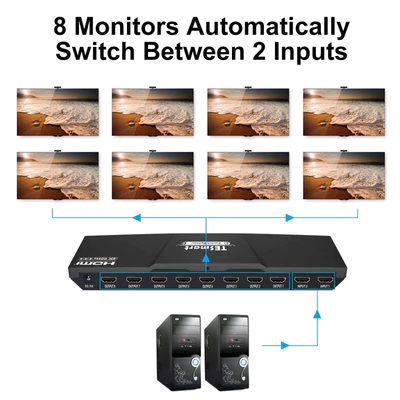 1x16 HDMI splitter: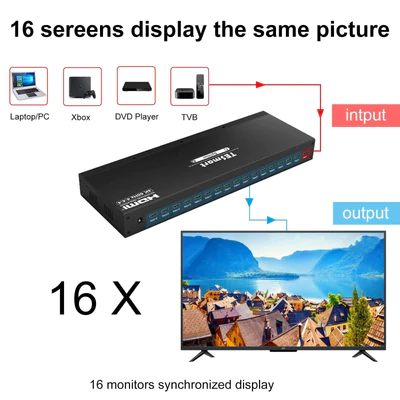 How long of a cable can I use?
A cable that is 30 ft or less can transmit High Definition (1920×1080) quality at 60Hz
A cable that is 15 ft or less can transmit Ultra HD (3840×2160) quality at 30Hz
A cable that is 10 ft or less can transmit Ultra HD (3840×2160) quality at 60Hz
My Laptop only has a single HDMI or No HDMI port, How do I get video connections?
Most Laptops have a USB C Port, MiniDisplay Port, Thunderbolt 1 and 2: Mini DisplayPort; Thunderbolt 3 and 4: USB-C. Therefore if you have a Type C on your laptop and need HDMI Port you will need a Type C to HDMI Adapter. There are some USB-C ports that can only power laptops and cannot transfer audio and video information. Contacting the customer service team (service@tesmart.com) has confirmed the compatibility of the adapter with KVM.
Do I need a docking station?
No not all computers need a docking station. We recommend docking stations for computers that do not have the necessary ports available, in most cases adapters can solve this (Docking stations are often expensive).
Why does the monitor not fit when I connect my tv to the output?
On occasion TV's will exhibit "overscaling" issues. This is due to the input device, typically a PC, having a slightly different resolution than a television. There are a number of ways to correct the issue by making adjustments to Windows and Mac operating systems.